BOOK LAUNCHING HORS SERVICE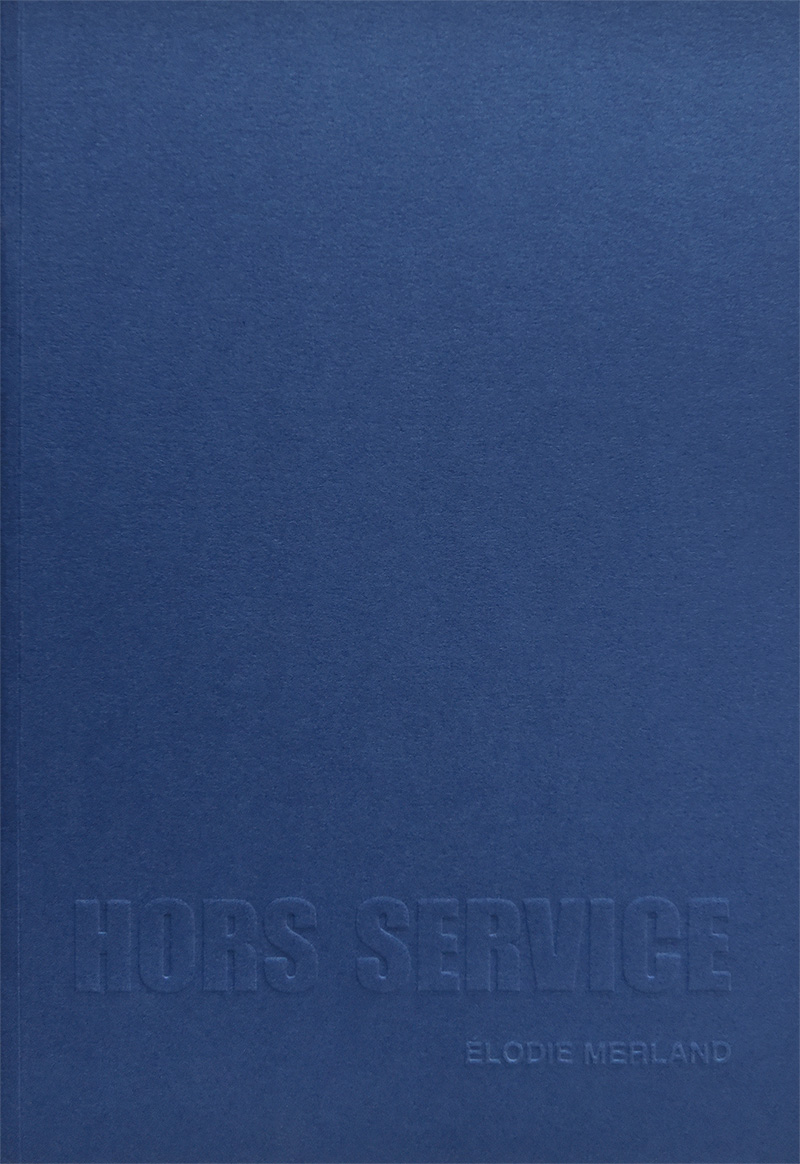 "Nearly ten years later, Élodie Merland returned to the places where she narrated her descriptions (One hour galleries); not a single telephone box. The artist then took a photograph of these spaces freed of their cramped edifices. The artist's photographs evoke that which has been erased rather than buried. Moreover, they do not refer to History's tragic events, but rather to the histories of the billions of non-recorded conversations, deemed unimportant and inenarrable, that were shared through hundreds of thousands of now obsolete telephone boxes."
Arnaud Dejeammes, Waiting, attentiveness (extract), 2021.

Hors service, book of 52 photographs, 20x29cm, 72 pages, 2021
200 copies numbered and signed
Photographs: Élodie Merland, preface: Arnaud Dejeammes, translation: Erika Ferrand Cooper, book mockup: Philippe Robert, printing: Escourbiac.

This project was made possible thanks to the support of the Région Hauts-de-France by benefiting from a grant to aid creation. The images were digitized with the help of Fresnoy, Studio national des arts contemporains, in its photographic laboratory.

Hors service is on sale for 30 € in the shop of this website as well as in bookshops.

FRANCE
DUNKIRK ➢ La Librairie ➢➢➢ Launching on Friday 25th February from 4:00 p.m. to 7:00 p.m.
GODEWAERSVELDE ➢ Calibou & Co
LILLE ➢ L'Espace du Dedans
MARSEILLE ➢ L'Odeur du temps
Histoire de l'œil
Zoème
PARIS ➢ Volume
La Boutique du Centre Pompidou
La Nouvelle Chambre Claire
Jeu de Paume
Le Monte-en-l'air
RENNES ➢ Lendroit éditions
ROUBAIX ➢ Autour des Mots
Bureau d'Art et de Recherche
TOULON ➢ Le Carré Des Mots ➢➢➢ Launching on Friday 29th April from 5:30 p.m. to 6:30 p.m.
TOULOUSE ➢ Les Abattoirs
TOURCOING ➢ Le Fresnoy, Studio national des arts contemporains
ONLINE ➢ 8ème Art
Escourbiac - Achevé d'imprimer

BELGIUM
BRUSSELS ➢ Tipi Bookshop
L'Enfant Sauvage
Les yeux gourmands
GHENT ➢ Copyright

The list of outlets will be updated step by step.
LA VIE PLUS-QUE-PARFAITE PAR ÉLODIE MERLAND BY FABIEN RIBERY | L'INTERVALLE BLOG
« Hors service, de la photographe Élodie Merland, est un livre solaire habité par le vide.
Vivant et travaillant entre Dunkerque où elle est née et Folkestone, en Angleterre, l'artiste connaît bien ces communes du Nord de la France, où il ne s'agit pas de se monter du col, Bergues, Coudekerque-Branche, Grande-Synthe, Hazebrouck, Armbouts-Cappel, Saint-Pol-sur-Mer, Spycker... » Read more
L'INTERVALLE ➢ website
FOCUS ON ÉLODIE MERLAND'S WORK BY VALENTINA PERI | LACRITIQUE.ORG
« De 2009 à 2010, chaque dimanche pendant une heure, l'artiste Élodie Merland ouvrait sa galerie sur rendez-vous, située à chaque fois dans un quartier différent de l'une des villes où elle résidait : Dunkerque et Toulon. Une galerie d'environ un mètre carré, équipée d'un téléphone filaire. Une cabine téléphonique... » Read more

TRAVERSÉES is a support fund coordinated since March 2021 by CIPAC, FRAAP, the Diagonal network, with the support of the French ministry of culture.
LACRITIQUE.ORG ➢ website
/SI:N/ ART VIDEO AND PERFORMANCE BIENNIAL | THE FRENCH INSTITUTE | GAZA
For its 7th edition, the biennial /si:n/ will be held in Palestine from July 19th to 26th. Programs, installations, performances will crisscross the cities of Ramallah, Gaza, Rafah, Jerusalem, Bethlehem, Tayibe.
The biennial /si:n/ rises up!
She will question the evidence, scorch the standards, go beyond the arguments of authority. « Nous étouffons parmi des gens qui pensent avoir absolument raison » said Camus. Let's debunk the dominant discourses, the insidious propaganda, the confinement (of the arts) to canonical rules, codes...
Room for doubt, this intimate moment of wavering and questioning. Make way for nuance, this marked position that confronts reality insofar as it is complex and sometimes contradictory.
Exhibition from Wednesday 20th to Tuesday 26th July 2022
Open from Sunday to Thursday from 9:00 a.m. to 17:30 p.m.

THE FRENCH INSTITUTE ➢ Rue Charles de Gaulle, 00970 Gaza, Palestine
website